"Everybody can function pretty well when it's sunny in their life. How do you function when the rain comes and when those leaks get exposed?" — Ed Mylett

My passion is to help people become financially unbreakable.

Get them on track financially, build their financial confidence, and give them the tools and recommendations necessary to succeed and live the life they want to live.

For some, they are complete DIY'ers.

For most, they live a busy life and don't spend the time to sit down and formulate a plan. Or maybe they become overwhelmed and do the minimum as the options are endless and seem daunting.
I sympathize with people who feel like they are in a rat race and constantly treading water.
But I'm telling you, it doesn't always have to be this way.
If your emergency savings needs a boost, you've racked up credit card debt, you were laid off and feeling the sting of inflation, or maybe you just are scared for what the future holds—know that you aren't alone.
Here are 5 steps you can take to get you on your way to becoming financially unbreakable.
1. Start NOW, don't wait. 
Prioritize putting your money into assets that generate a higher return, such as the stock market. Time is by far our greatest asset. Don't believe me? This sums it up well: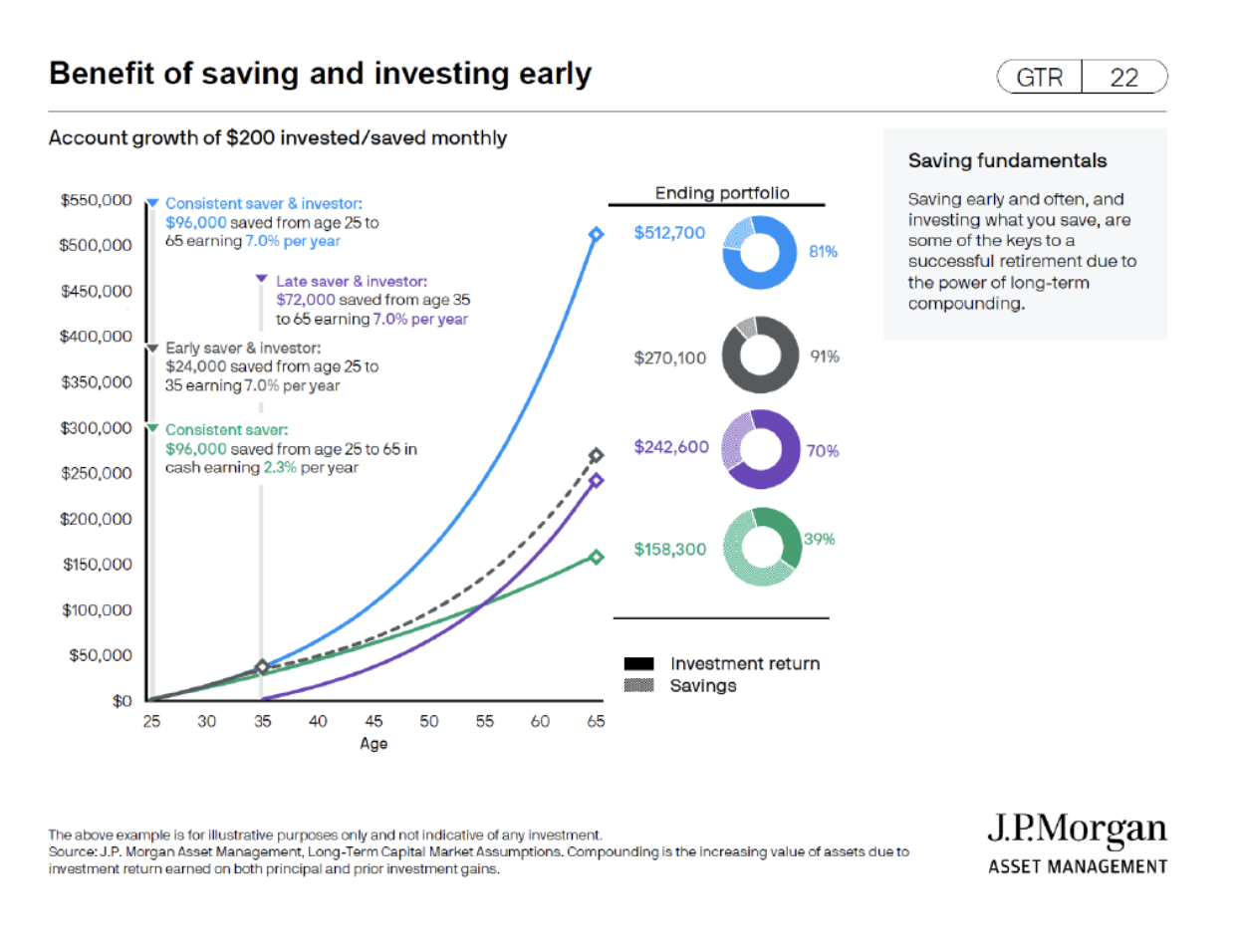 If you put away $200/month at age 25 until 65 (40 years), and earn 7% per year (which is approximately the REAL return of the S&P 500 going back almost a century), that would grow to $512,700. But if you waited 10 years and started at age 35, earning the same 7% per year, that grows to $242,600, or about $270k LESS had you started 10 years earlier.
For the conservative investors, if you put away $200/month into a cash account that generated 2.3% per year, you would accumulate $158,300. Learn to become comfortable taking some risk.
2. Make the process simple. 
Invest as much of your paycheck as possible and set up automatic contributions/deposits. Whether it's your 401(k), Roth IRA, investment account, savings accounts, bills, etc., make this easier on yourself. Automating frees up time, reduces stress, and helps answer the question "Where is my money going?" Start small if you have to, then ramp it up.
3. Invest in yourself and identify people who can help you. 
Don't be the type of person who steps over dollars to chase pennies. Work with experts, delegate, find those who can help you save time and money. We can't always do this on our own. Embrace allies.
4. Consistency is the key when you are investing. 
We are coming off a brutal year and are still dealing with intense volatility. Has this made you nervous about investing? Maybe you changed your allocations to "wait until things are better." We don't try to time the market.
When you are young, focus primarily on saving and generating more income. No matter what people tell you, if you want to become wealthy, increase your income and savings rate. These will undoubtedly fluctuate, but save what you can while you can. Create multiple income streams (salary, interest income, dividends, side job, etc.). These "quiet quitters" should make you laugh. If someone doesn't want to go out and perform, no problem, we will.
5. Practice moderation in all things, including spending and debt management. 
Expect the unexpected: things break, emergencies happen, you may lose your job. That's life. We accept the hand we are dealt and we move on. We don't sulk, we don't seek sympathy, because that doesn't do anything for us. We get up each day and figure out a way to perform. If you have debt out there with an interest rate above 10%, prioritize paying that off. This is a better use of money than investing as it's unlikely your long-term investing returns will beat a 10%+ interest rate consistently. Once your debt is paid off, this frees up cash flow.
We should be able to flourish in all different environments.
You don't become wealthy by coasting and getting to it when you can.
No, we take action.
We are slaves to our own minds. We let the negative self-talk get to us. "I can't possibly save that much." "I'll never become a millionaire." "I don't have the time."
"You can make excuses, or you can make results, but you can't do both." — David Goggins
Start your journey today to become financially unbreakable.
Not sure where you stand? This chart is a good measure on how much you should have put away based on your age and salary: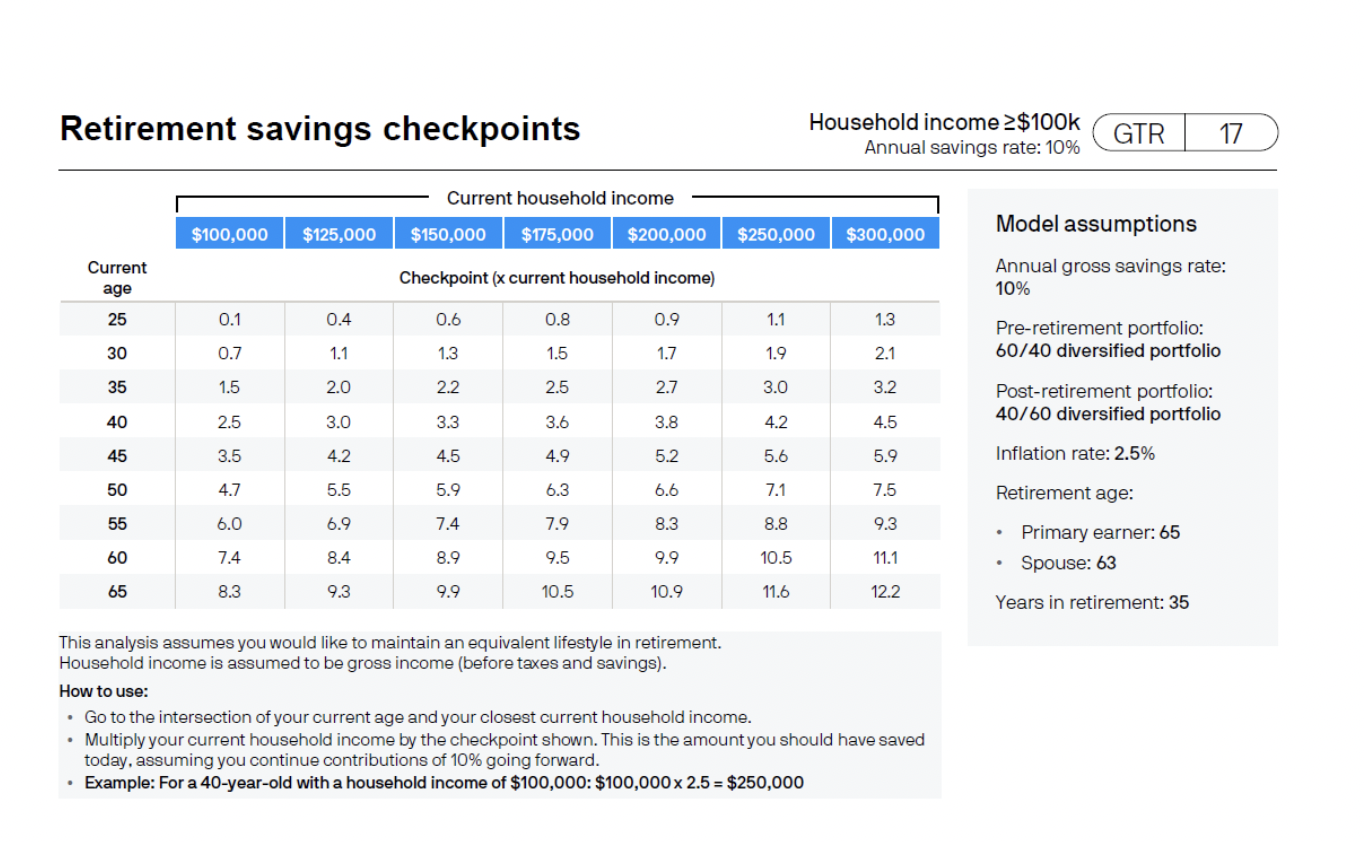 For example, if I'm 30 years old, making $125k, I should have around $137,500 ($125,000 x 1.1 = $137.5k) of assets saved (401(k)s, IRAs, investment accounts, cash, etc.).
Feel lost and don't know where to turn? Please reach out to me by calling (617) 612-5567 or emailing kyle@mmwealthmanagement.com.
Disclosure: This material is for general information only and is not intended to provide specific advice or recommendations for any individual. All performance referenced is historical and is no guarantee of future results.

All indices are unmanaged and may not be invested into directly.

All investing includes risks, including fluctuating prices and loss of principal.
About Kyle 
Kyle Hurley is a Private Wealth Advisor with Munroe Morrow Wealth Management. Kyle is a Certified Public Accountant in the state of Massachusetts. He joins the team after three years at Ernst & Young, where he performed auditing services for both public and private companies. Kyle attended the University of New Hampshire where he graduated Magna Cum Laude with a concentration in Accounting and Finance from the Peter T. Paul College of Business and Economics.
Originally from Mansfield, Kyle enjoys spending time with his family, traveling, and playing golf and hockey.